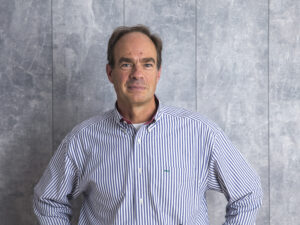 In this series, Healthcare Design asks leading healthcare design professionals, firms, and owners to tell us what's got their attention and share some ideas on the subject.
David Meek is a principal at Shepley Bulfinch in Boston. Here, he shares his thoughts on the renewed importance of staff respite areas, automated design features, and future COVID clinics to treat patients with long-term health effects.
Keeping flexible
With the pandemic lingering, institutions are reprioritizing projects that went on hold and considering how they can best prepare their organizations for the next big crisis. Rising fear of widespread health infections, like the bird flu, impacts programming and space planning for the next generation of hospitals. For example, in September 2021, at John R. Oishei Children's Hospital in Buffalo, NY, an observation unit was designed to become a quarantine unit if it was needed for any kind of future outbreak. Room layouts will evolve with various equipment and added infrastructure to address contamination concerns and pressurization requirements. At inpatient settings specifically, facilities could incorporate more flexibility by adding buffer spaces at the entrance of each bed wing to ensure patient rooms are not sacrificed for anterooms to don and doff personal protective equipment. Acuity-adaptable rooms would also allow patients to be treated in the same setting, rather than be moved to another floor as their condition changes.
Renewed importance on staff respite areas
As the exhaustion of hospital caregivers becomes more and more evident, how can design help provide respite? Ideally, staff respite spaces should be placed along the exterior of a building to provide a connection to the outdoors and in a quiet, offstage area so that staff have a place to step away from their department. Creating regenerative environments is not only essential to recruitment and retention but also a simple way to make a huge impact on the staff's day. By using color, graphics, accent lighting, and comfortable seating, much like that of an airport lounge, we can create great improvements for staff at a modest cost.
Touchless everything and more automation
While most automated systems provide convenience, they can also reduce waste and increase safety. For example, the push paddle actuator of an automatic door can now have touchless sensory technology, eliminating potential germ transmission and reducing the strain from individuals physically pushing open entryways. Additionally, automation can be used to improve lab environment efficiencies by increasing turnaround times, reducing waste when aliquoting, and prioritizing specimen processing, as well as retrieval from high-density refrigerated storage units if subsequent studies are needed.
Impact of expanded food offerings
Designs are being tailored to accommodate the expansion of food offerings as café spaces and hospital menus continue to diversify for cultural and medical needs. Starting with kosher options, healthcare organization have since expanded to be more mindful of other cultural, dietary, and allergy restrictions, from gluten, dairy, and nut-free stations to vegan and halal cuisines. Food service consultants have been essential to programming, menu selection, storage, and food presentation. We're also starting to see regional food icons being integrated into healthcare facilities, such as the Tim Hortons at John R. Oishei Children's Hospital.
A future of COVID clinics?
The long-lasting health effects resulting from the COVID-19 pandemic will likely drive the need for dedicated clinics spaces to treat these patients. Similar to a multispecialty clinic, these COVID Clinics will require a variety of neurological, cardiac, pulmonary, and counseling needs that are specialized in navigating physical setbacks and sensory loss, such as cognitive challenges, cardiac irregularity, lowered lung capacity, and sleep disorders. While we do not know exactly what this space will need to accommodate, it's important that we do not wait too long to start designing them to adapt to changing needs, as history has a habit of repeating itself. These clinics will need to respond to an array of specialists and are likely to include some diagnostic testing, imaging, individual and group therapy spaces, collaborative work areas, along with more traditional exam rooms.
Want to share your Top 5? Contact Managing Editor Tracey Walker at tracey.walker@emeraldx.com for submission instructions.