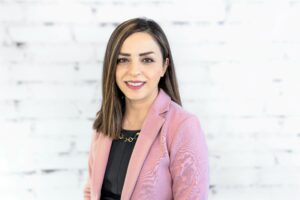 In this series, Healthcare Design asks leading healthcare design professionals, firms, and owners to tell us what's got their attention and share some ideas on the subject.
Asma Sanaee is a medical planner and associate with E4H Architecture and co-chair of the American Institute of Architects / Academy of Architecture for Health Research Initiatives Committee. Here she shares her thoughts on designing for flexibility, the medical hub model, and using design to support patient and clinician collaboration.
Designing for efficiency
In an ever-changing healthcare environment, a modular layout designed for flexibility can promote efficient workflow. Flexibility is crucial for a healthcare system to maximize real estate within a limited footprint. For example, many clinics adopt modular layouts with central pods where caregivers share space and exam rooms radiating off the pod. This layout provides numerous opportunities for future expansion, efficient operation, and multiuse spaces. An efficient layout and operation will support caregivers to work smart with less travel distance from private offices and take the rest they need to minimize medical errors.
Rightsized clinic
Developing a rightsized program from the beginning of the project is a crucial step. One tool to achieve this is a benchmarking process to measure an organization's performance against other national best practices. This systematic approach assists organizations to identify areas of achievement to optimize a successful outcome and understand and set expectations during the design process.
Colocating services
As more healthcare organizations focus on population health, we're seeing some clients looking to expand their primary care, sub-specialty, and mental health services. Colocating these services at strategic locations will be key to elevating a community's health and well-being and facilitating convenience, prevention, and follow-up care. One option to support this is the medical hub model, which consists of integrated preventive programs such as primary care, imaging services, physical rehab, and mental health services. This solution brings together resources and clinical expertise to provide a seamless journey for patients, while helping to provide affordable and high-quality care.
Meaningful built environment
Well-designed built environments can facilitate patient-centric experiences that can lead to positive health outcomes. Today, patients expect to be equal partners with caregivers and clinicians, while patients and families are active participants in their treatment plans. Therefore, the built environment should promote doctor-patient-family collaborations, face-to-face interactions, and an elevated quality of care. For example, the exam room design can encourage communication by providing opportunities for patients and clinicians to view the same computer screen and provide furnishings that accommodate family members.
Artificial intelligence (AI) touchpoint
The evolution of technology will affect patient experience at various touchpoints either remotely or in-person. For example, implementing self-check-in through an identification card, fingerprint, or facial recognition could eliminate the need for large waiting areas where there's the potential for disease transmission. AI-enabled programs such as a chatbox, which creates an online conversation via text, can be used to create a personalized journey before, during, and after treatment, including helping to monitor a patient's health, schedule appointments, and educate patients.
Want to share your Top 5? Contact Managing Editor Tracey Walker at tracey.walker@emeraldx.com for submission instructions.