In early 2020, Memorial Sloan Kettering Cancer Center (MSK) opened its doors to its new David H. Koch Center for Cancer Care in Manhattan. The building had been designed eight years prior, with the vision aspiring to deliver an aesthetic and functionality that would remain relevant many years after that opening. "Where we were in 2020 was about looking ahead," says Melissa Dallal, project manager, interior design, at MSK (New York).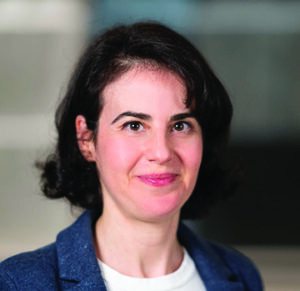 And the effort paid off immediately, with details such as handwashing sinks in waiting rooms and a vast variety of seating and gathering areas helping to facilitate safe operations amid the outbreak of COVID-19 that soon followed. It also represented a next-level interiors approach for MSK, building on an existing aesthetic direction and inspired by other design sectors, primarily residential, to create a comforting, even inviting environment that patients would look forward to spending time in for treatment, Dallal says .
Dallal recently joined a group of fellow design professionals to discuss the evolution of interiors since the pandemic began, including where aesthetics stand today and how new approaches to healthcare spaces are influencing product specification and design solutions. The Healthcare Design roundtable was moderated by Editor-in-Chief Jennifer Kovacs Silvis and also included Edwin Beltran, principal, designer at NBBJ (Columbus, Ohio); Amy Sickeler, design principal and principal at Perkins & Will (Atlanta); and Kristin Ellingsen, facilities space planner, campus planning, at City of Hope (Duarte, Calif.) and immediate past president of the American Academy of Healthcare Interior Designers.
While COVID-19 did not change the trajectory the industry was on, it has propelled interior solutions focused on creating safe, cleanable environments that achieve health and wellness, warmth and comfort, and future flexibility and budget consciousness.
First steps
As 2020 progressed and healthcare institutions managed daily operations alongside patient fears and heightened infection prevention protocols, short-term solutions such as plexiglass dividers and removal of seating in public areas emerged. Other immediate shifts, however, have inspired enduring changes to project design.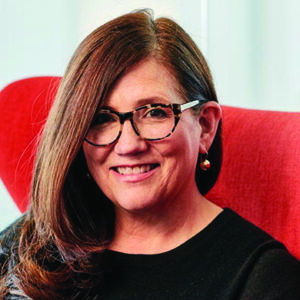 For example, industry practice had long been to maximize seating in waiting areas. But quickly, the alternative process of calling patients into the building when a physician was ready to see them became commonplace for social distancing, a solution that's now sparked a move away from that once-standard space. "Nobody really wanted to sit in a waiting room for a long period of time," Sickeler says. "I think we'll see a lot of clients continue to do that, out of convenience for patients." Instead, she says, Perkins & Will is seeing increasing use of waiting spaces to support programming tied to education and prevention as well as consultation.
Outdoor areas were also leveraged, where possible, to provide more access to fresh air. And now what had been a difficult design element to get funded is beginning to be viewed as valuable programmable space that moves the needle on integrating nature with health-focused experiences. For example, Beltran says, outdoor areas are being designed to complement the arrival experience in place of extravagant lobbies and serve as destinations for dining, respite, or exercise.
Meanwhile, spaces dedicated to healthcare staff are being re-evaluated, as well. For example, as many nonclinical healthcare staff continue to work remotely, providers are rethinking the way space is used when employees do come on-site. "People may not be in the office full time if they do not have patient-facing positions, so when they are in, they're collaborating. Building in more collaboration spaces is what we've been focused on, "MSK's Dallal says, adding that energizing, lounge-like environments are being created for that purpose.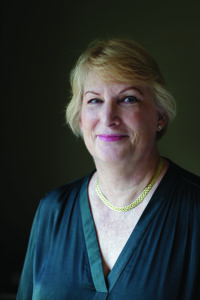 For those who remain on campus daily, a variety of staff amenities are being embraced, as well, the group says, with organizations especially working to respond to the toll taken on healthcare workers throughout the pandemic. "[Clients are] creating amazing environments that go beyond just a break room, "Beltran says, with priority placed on dedicated food venues and other respite space offerings. Ellingsen says City of Hope is designing five floors of a new facility with patios outside staff lounges.
In terms of the aesthetics of these spaces and healthcare in general, the panel agrees that despite enhanced awareness of the spread of COVID-19 and other pathogens, design is not moving towards the institutional. Rather, it's the opposite: residential. "[The residential design trend] has always crept up and then gone back down, but that request is now coming from multiple clients, "Sickeler says,
In fact, Ellingsen has coined the term "healthy-dential" as opposed to the popular "resimercial" used for the fusion of residential and commercial environments, to "cut out the commercial" and place focus on healthcare.
In the details
How that more residential approach is being applied to interiors is defined by an effort to maintain cleanability while still being inviting to patients who are potentially hesitant to visit healthcare spaces as the pandemic persists. "It's trying to walk that fine line of warm and comfortable and softer than it was before, because it's not easy [for patients] coming back, "Ellingsen says.
That effort is inspiring new approaches to product specification, as well. At MSK, more resilient flooring is being used instead of carpet, but Dallal and her colleagues are seeking out options that offer visual interest such as a wood look in patterning like chevron or herringbone. "Things that give you that residential feel, we's definitely doing more of. And we're looking for products that allow us to do that, "she says. Sickeler adds that carpet is not disappearing, though, and is still being specified for nonacute spaces. "We're still using high-quality carpet… the cleanability has proven carpet to be very durable," she says.
But when hard surfaces are specified, Dallal says she's even more cognizant of introducing other soft finishes — for example, in a recent surgical waiting lounge project. "When we were doing that, we thought about the furniture and fabrics and that they had to be extra plush, extra warm and fuzzy," she says. "Finding the right fabrics to balance that are a challenge in the marketplace. We did find them, but those are few and far between and we'd love to see more of those options. "
Ellingsen adds that City of Hope has been exploring the use of more textured vinyls on chair seats, for example, but combined with a softer, bleach-cleanable fabric on the seat back to achieve a higher level of warmth. Additionally, Dallal discussed MSK's growing use of bleach-cleanable wallcoverings to add visual interest to a space and celebrated new options being introduced by manufacturers, such as wall protection in a greater variety of colors and textures, to better facilitate the residential trend even in stringent healthcare environments. "Manufacturers in general seem a little more awake now," she says. "Keep going."
Ellingsen agrees, saying she's seeking manufacturers who will listen to the needs of an organization and help answer them. "[It's about] being able to be flexible and think outside the box a little bit with us to find the right products or tweak the ones that we have, "she says.
Looking forward, the designers anticipate the "healthy-dential" trend to persist alongside continued consideration for the ways building users are navigating and responding to spaces. For example, Dallal says, "being mindful of proximity, maybe in a way you were not before, and balancing the need for privacy and communal spaces. What's the experience of a person coming into your space in relation to other people? That may feel different now [due to COVID-19]. "
Additionally, mounting efforts to address diversity and inclusion in the built environment are further inspiring recent designs, specifically solutions that respond to the unique needs of the community being served. The group shared design elements ranging from prayer rooms to accommodate Muslim populations to signage in multiple languages ​​to varied chair heights to support ranges of physical ability. "It's knowing what the demographics are, who you're talking to, who you're inviting in.
It's one of the big elements of program design and whether or not a building is successful, "Sickeler says.
A look ahead
As projects move forward amid COVID-19, persistent challenges are requiring interior designers to be nimble and adopt new solutions.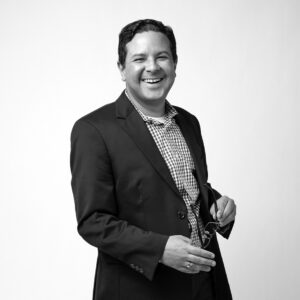 For example, Beltran says he's seeing more clients embrace Target Value Design as their mode of project delivery, where projects are designed to meet a given project estimate and that estimate, or value, might change throughout construction. "You have to live up to that value," he says, bringing to bear the notion of "essentialism" that he's seen influence interiors amid the pandemic. Beltran says this essentialist mindset could be referenced back to early modernist work, such as the Alvar Aalto-designed Paimio Sanatorium in Finland that introduced purposeful uses of color and materials to encourage health and well-being, minus design extravagances or unnecessary decorations.
The 2022 solution, he says, is design that strives to be "material agnostic" where feasible. "The gestures and quality of the environment you're designing will hold up even if you play up or down the level of finishes you're proposing for the space. You're truly designing until the end because that value is constantly being assessed and helps the designer focus on the essential concepts that should be upheld, "he says.
Beyond managing budgets, designers must also respond to demands for flexible and adaptable spaces. "How can an exam room, at a moment's notice, turn into telemedicine or a consult room or even an infusion space?" Beltran says. At MSK, Dallal says flexibility is being achieved through a growing use of modular solutions, such as demountable walls, including in ORs, as well as furniture in place of casework.
On top of meeting more traditional program shifts, future flexibility also must accommodate another COVID-19-type event. "How do you design for pandemic mode? I do not recall a project that I worked on in the past where that was ever a part of the conversation, "Beltran says. "That is very much a part of how every public space is designed today."
Achieving that via design might include opening up campuses to have several entries as opposed to one front door to allow better distribution of sick / well ingress and egress as well as division built into a space such as an emergency department plan that separates "hot and cold Patients. Recognizing the number of elective surgeries that were canceled at the onset of COVID-19 and again amid the Omicron surge, Sickeler adds an additional approach to consider is dedicating a single building for pandemic response or specific floors of a patient tower to avoid those types of shutdowns. "Having an infectious disease building or protocol, I'm not seeing it yet, and I hope that we will. I think [COVID-19] is just the beginning of infectious disease, and I do not think these types of events are going to end. "
Ellingsen agrees, adding that such considerations could become a baseline for the industry going forward and integrated into all projects. "That would push the level of design where it's like ADA or universal design, where it's good for everyone," she says.
Jennifer Kovacs Silvis is editor-in-chief of Healthcare Design. She can be reached at jennifer.silvis@emeraldx.com.