Materials and furnishings for healthcare environments require rigorous cleaning and maintenance protocols to support and protect patients, staff, and families — conditions that have seen heightened priority amid the COVID-19 pandemic. Looking to provide a line of surface materials focused on cleanability and durability and that could meet users' evolving sustainability goals, CF Stinson LLC (Rochester Hills, Mich.) Introduced CARE x Stinson. (CARE stands for "cleanable and responsibly endorsed.") The high-performance collection comes in woven and nonwoven options to support a variety of designs. Additionally, the line's coated, nonwoven options are part of the new Chemical Fabrics and Film Association (CFFA) HC-201 certification program, which identifies fabrics appropriate for healthcare environments to help reduce product failures.
Jurors were impressed by the variety of colors, patterns, and textures in the collection as well as its online tool that allows users to confirm the products are compatible with their specific cleaners and disinfectants before specifying. These attributes earned it the Best of Competition honors in the 2021 Nightingale Awards.
Healthcare Design spoke with CF Stinson's Glenn Stinson, vice president and chief operating officer, and Lori Roop, director of design, who shared how the line was designed to fill ever-changing needs in the market and some of the features that stand apart.
Healthcare Design: How has the pandemic impacted cleaning protocols and upholstery performance in healthcare over the last 18+ months?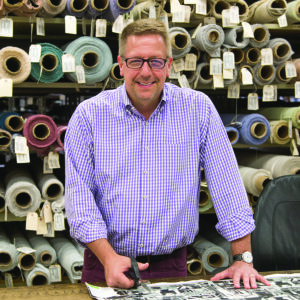 Glenn Stinson: The pandemic has presented many challenges and opportunities to healthcare designers, furniture manufacturers, and environmental services teams within the various healthcare facilities. Hyper-frequent cleaning, combined with the overuse of caustic and hazardous chemicals, has led to more premature upholstery breakdowns than ever before. In a very interesting way, cleaning / disinfecting protocols once unique to healthcare are now being used in all types of commercial interiors.
What issues does this collection address and how?
Stinson: Every healthcare project is unique, yet for the majority of them, the essential requirements remain the same: cleanability, durability, sustainability, and the need for surface materials to stand up to the rigors of the "real world" healthcare environment. CARE x Stinson responds by providing a cleanable, durable, beautiful, Greenguard-certified collection of high-performance surface materials. It includes both woven and nonwoven options that have been thoroughly tested and are compatible with myriad cleaners and disinfectants, including many that appear on the Environmental Protection Agency's (EPA) list for use against SARS-CoV-2.
What stands out to you most about this fabric line?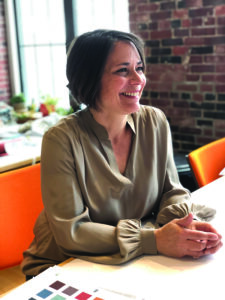 Lori Roop: In addition to the high-performance attributes, the variety offered in CARE x Stinson is one of the most exciting features of the collection. We recognize the wide range of interiors that fall under the healthcare umbrella, and it's awesome to be able to provide so many options for designers tailoring their spaces. We feel like we can respond to whatever vision designers dream up, from a hospital patient room to a wine tasting area in an assisted living community. This group of advanced surface materials can be used effectively to create beautiful, durable, and cleanable spaces.
Why was it a priority for coated fabrics in the collection to be part of the CFFA HC-201 certification program?
Stinson: This assures our customers that these products are applicable and appropriate for their intended use in a healthcare setting. Products that are HC-201 certified must pass a series of tests that have been identified as relevant to the healthcare environment. This new standard was developed in conjunction with industry consultants and design directors of major hospital systems with the goal of reducing product failures.
What are some of the environmental and sustainable attributes of the CARE line?
Stinson: As we designed the collection, we wanted to offer many choices so designers can specify products that represent their sustainability goals. All PVC products in CARE are produced without phthalates, antimicrobials, or flame-retardant attributes. The collection comprises many product constructions, each presenting different sets of environmental and sustainable attributes. For example, soft woven Lorelai-MB combines the best of performance textile, polyurethane, and silicone technologies to create a Healthier Hospitals Initiative (HHI) -compliant woven textile that includes moisture barrier performance and exceptional stain resistance.
Additionally, because of their durability attributes, all patterns will provide a long service life, reducing the need to reupholster or purchase new furniture on a frequent basis.
How does the line enable users to confirm the products will work with their cleaners?
Stinson: One of our goals was to bring to market a collection of products that considers all the stakeholders' challenges. For example, let's say environmental services uses a particular cleaner or disinfectant. The design team can use our online compatibility search tool, which includes an expanding list of cleaning products used in healing spaces. Designers can search for the disinfectant or cleaner being used in a healthcare space and find surface materials that are compatible with them. This is extremely helpful, as using incompatible products can lead to premature material failure including splitting, cracking, peeling, staining, and delaminating.
What healthcare interior design trends are you seeing and how does this collection respond to them?
Roop: Wellness and the benefits of biophilic design are trends we're focused on, and we often use biophilic principles, drawing inspiration from nature. The Petal Dots motif was hand drawn from actual flower seed puffs while the Pod motifs were hand drawn from ground cherries. Both designs make use of a random shape arrangement, which feels very natural and organic. Texture and comfortable softness are in high demand right now. CARE x Stinson provides a palette of texture and hue for designers to work with, ranging from the sumptuous, performance chenille in Lorelai-MB to coated versions of woven textiles like Bond and Box Chain. Color feels like it is warming up in general, and with 279 colorways in this collection, we feel confident in this design toolbox.
Anne DiNardo is executive editor of Healthcare Design. She can be reached at anne.dinardo@emeraldx.com.
The post Fresh Take first appeared on HCD Magazine.